Hartman Financial Planning

Hartman Financial Planning is a financial planning and Registered Investment Advisory firm registered in Glendale, California. The Santa Clarita office serves clients in Canyon Country, Newhall, Saugus and Valencia, Californa. The firm is a values based, fee-only financial planning practice that provides financial advice on an as-needed basis to individuals, families, and small businesses.
Flexible services allow you to select the program that makes sense to you. One-time or periodic consultations are provided at reasonable hourly rates. We accept no commissions or third party compensation so our recommendations are free from the bias these compensation arrangements create.
We also provide on-going investment management services for an annual retainer fee. Portfolios are designed for your individual needs, whether growing assets during your working years, reducing risk while preparing for retirement, or generating income once retired. We serve the greater Los Angeles area.
"We focus on one mission: Values Based solutions and tailored advice to help you, the client, make sound financial decisions based on your personal goals and needs, We are here to help you find what is best for your unique situation. We believe nobody will take better care of your money than you, and we're here to help.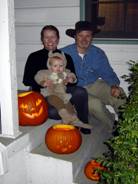 Bradley Hartman and Family enjoying Halloween

Mr. Hartman had extensive life and financial experience before founding Hartman Financial Planning.

He was an Electrical Engineer working in the US, France and Japan since 1982. During that time, he co-founded an investment club to hone his investing techniques, before formalizing his financial expertise by obtaining a Certificate of Professional Designation in Personal Financial Planning from UCLA. He has demonstrated his breadth of knowledge by passing the difficult Certified Financial Planner multi-day exam (50% national pass ratio).

He takes the time to understand your values and needs and then explains your options in clear easy to understand terms.


Mr. Hartman has extensive personal and consulting experience in each the following areas: stock market investments, retirement planning, college planning, real estate investments, entrepreneurial activity in small businesses, educating peer investors regarding their investing and business endeavors.

Married with two young sons that further reinforces his belief that proper planning provides for an abundant lifestyle, he has personally experienced most of the life events that shape and prioritize your financial life plan. He is active in the Boy Scouting program serving as a Den Leader and Pack Committee Chair for 5 years.

He has the education and experience to help you achieve your dreams. To learn more about Bradley. Hartman click here to read an interview.